Posted by Ed Thompson on Saturday, May 25, 2013
A campaign is underway to force Arsenal to examine their links with controversial Vietnamese logging and rubber company HAGL.

Money-spinning end-of-season foreign tours to exotic places are now common-place for Premier League clubs and few people initially questioned Arsenal's plan to visit Vietnam. After all, Arsenal has an established academy with one of Vietnam's biggest clubs HAGL ('HAGL-Arsenal Academy') and are keen to market the club in the Far East. However their links to HAGL look set to severely embarrass the club. In their quest for commercial gold, Arsenal have established commercial tie-ins with a company that is labelled by environmental pressure groups as one of the most evil on the planet.
Pressure group, Global Witness highlighted the destruction and misery caused by HAGL in this short and powerful video 'Rubber Barons'. It is recommended viewing.
The HAGL (Hoang Anh Gia Lai) company is owned by football enthusiast Doan Nguyen Duc. In 2002 he invested heavily to create the HAGL football club (who enjoy the rather obvious nickname of "Wood"). The club are one of the most ambitious in South-East Asia and are used by Duc to present an acceptable PR face for the logging company's ruthless deforestation. For more information on the club, click here.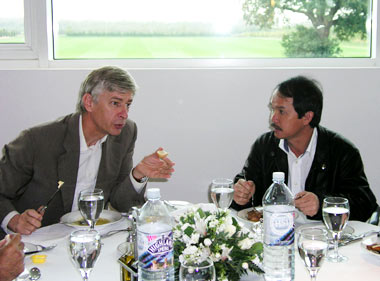 Wenger and Duc - for more images of the Arsenal/HAGL link cick here
In 2007 Arsenal announced that HAGL would become one of their three global Partner Clubs (along with Colorado Rapids and BEC Tero from Thailand). Arsenal's website proudly announced the establishment of a 'technical and marketing partnership' with HAGL. Displaying a stunning lack of foresight and due-diligence, Arsenal announced; 'we are delighted to have found a partner who shares the same goals as us'. The club went on to explain, 'Arsenal will also use the partnership as an opportunity to further develop club-related marketing and merchandising initiatives along with community outreach soccer school activities in Vietnam.'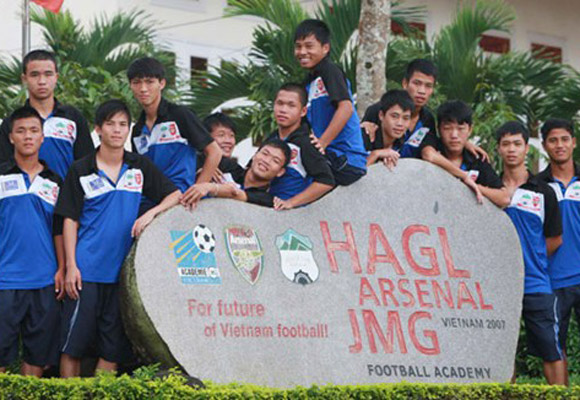 Having agreed a deal with HAGL to market the cub in Vietnam, Arsenal recently worked with HAGL to arrange a July 2013 friendly in Vietnam. The announcement of the friendly was heavily HAGL branded and Duc can be seen on right in this Press Release picture from the club website.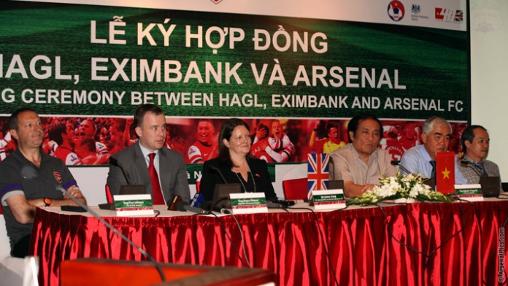 Arsenal fans unhappy with the link to HAGL have set up a petition to get the club to meet with Global Witness to discuss the tie-in (please bear with it if their server is misbehaving). They have also managed to influence Independent finance journalist Jim Armitage to print the story.
It is interesting to wonder why the club ever set up the deal in first place. Did the club not check who they were dealing with or did they simply not care? Football's marketing departments have become increasingly powerful as owners push to derive the maximum impact from club. The information about HAGL has been in the public domain so there are some real questions to be asked of the club's directors. It is to be hoped that when the club eventually realise the damage such deals do to the 'brand' and end their shameful link with HAGL, it will take steps to actively support the work of groups such as Global Witness.
An interesting and somewhat bizarre parallel can be drawn with the situation at HSBC and Bill Oddie (yes, that Bill Oddie). Global Witness and Oddie have been running a campaign to highlight the financing of ruthless logging companies in Malaysia. Faced with an on-line petition, media pressure and Oddie's presence at the shareholders' AGM, HSBC announced a seemingly genuinereview of their links to deforestation companies.
So, if fans think they see Bill Oddie at Arsenal's AGM in October, they should rest assured - one of the Goodies really has arrived.
blog comments powered by

Disqus