Posted by Ed Thompson on Thursday, March 14, 2013
With Malaga and Paris St-Germain in the last 8 of the Champions League, questions have been raised about the impact of potential FFP punishments on the Qatar owned clubs' campaigns. Both are very much the 'bad boys' of FFP and it is interesting to explore what might happen to the clubs if either win the current UEFA Champions League campaign.

Paris St-Germain look likely to fall-foul of the rule relating to the Break Even requirement which requires clubs to balance their incomings and outgoings. The club have been overspending and look set to fail the initial test by around £200m. Although the club will technically come close to breaking-even over the first Monitoring Period (covering seasons 2011/12 and 2012/13) it will only be achieved through the huge inflated deal with the Qatar Tourist Authority. For reasons that I explored here and here, it is very likely that, the QTA deal will be deemed to be what it is: an artificial deal aimed at injecting cash into the club as a way to get round the FFP Break Even rules.
For PSG, The key punishment to consider is UEFA's 'sanction 9' which is "the withdrawal of a title or award". This punishment was added to the rule-book during 2012 – it isn't just a hangover from earlier rule-shaping but is something deliberately and specifically introduced by UEFA fairly recently. Crucially this suggests that UEFA can now envisage a scenario when the punishment will be of use.
So, how could this affect PSG?
The decision on FFP compliance takes place according to the following timetable produced by UEFA.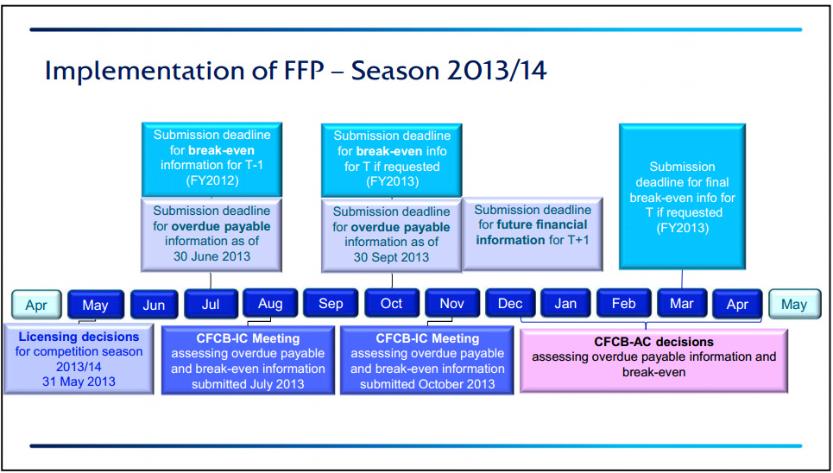 UEFA's slide It isn't particularly easy to read but we can see that the final decision on club licensing for the First Monitoring Period takes place between December and April (the pink box).
By December this year, it is possible that PSG will be the reigning European champions. Given that they are set to fail the Break Even test, UEFA's independent panel (CFCB) are obliged to give PSG one or more of the available 9 punishments (see foot of this article for the punishments). Such is the scale of the overspend that it is quite possible that they would receive a ban from competing in the 2014/15 Champions League. It is also entirely possible that the panel will also invoke sanction 9 'withdrawal of title or award'. PSG could well be viewed as having carried out their successful Champions League campaign with a wage spend brazenly in breach of the rules. In simple terms, 'financial doping' – and as we all know drug cheats can expect to be stripped of their medals and banned from future competitions. For PSG, FFP could be rather like having a drugs test shortly winning their medal. In this scenario, David Beckham would be asked to send his medal back to UEFA.
Should PSG fail the Break Even test when it is carried out in December 2013, UEFA will also have to look at the other available punishments. They can withhold prize money but interestingly could also throw a club out the Champions League – the sanction of 'disqualification from competition in progress'. So irrespective of whether they win the Champions League in May, PSG could find themselves thrown out of next year's competition half-way through the campaign (i.e. the 2013/14 campaign). That would create a real shock, but if UEFA want to 'throw the book' at PSG, they have the available punishments to do so.
Clearly this would be the worst-case scenario for PSG - and there is a considerable element of speculation here on how the rules may or not be applied. However,the fact that the rules are in place and that UEFA General Secretary Infantino recently used the 'cheat' word to describe PSG's approach, should at least give them cause for concern. The CFCB panel that determine the punishments are independent from UEFA and have shown that they are not afraid to punish and exclude clubs.
The Malaga position is also interesting. In December the CFCB panel banned Malaga from next year's UEFA competitions due to 'overdue payables' (i.e. funds owned to other clubs, or overdue tax). Malaga were also threatened with another year's exclusion and need to report back to CFCB in March (the results should be out fairly soon). However, crucially for the club, Malaga were not thrown-out of from current Champions League campaign. This suggests that they will not have any further sanction should they actually win the competition (they will probably pass the Break Even test). If they were to win the competition in May, Malaga would not be able to defend their title. This would be an interesting 'first' for UEFA.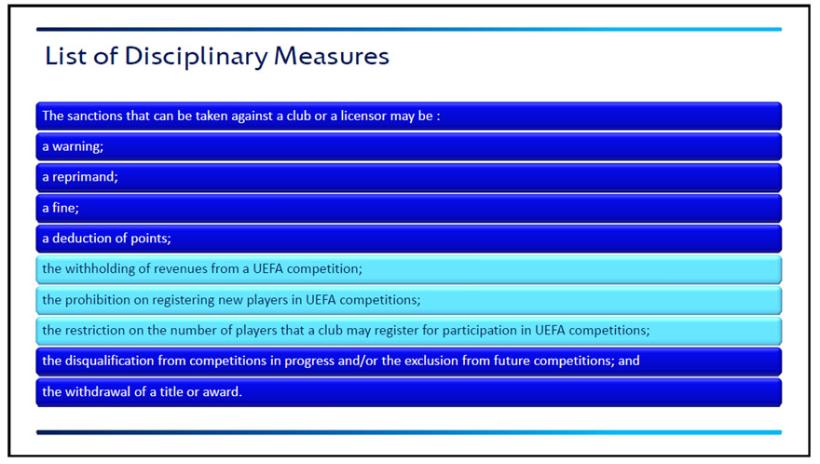 blog comments powered by

Disqus