Posted by Ed Thompson on Thursday, January 23, 2014
The annual Deloitte's Rich List reveals some interesting information about Man City's income - figures that have not yet been published owing to delays publishing the club accounts.

Before we look at the figures, I should point out that the income catergorisation used by Deloitte in their report is different to the one used by the Club accountants - however it does include all club income. Deloitte catergorise some of the club's revenue as 'Match Day Income' whereas the club put more of their income under the 'Commercial Income' heading. However, all the income is showing, just the catergorisation needs some reworking.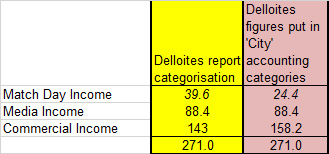 Once we have sorted that out we can then look at the changes from the previous year:

The interesting thing to see here is the amount the Commercial Income has increased by - a huge £37m over one season. It is rather hard to work out where this huge uplift has come from (the Etihad deal was announced in the previous year so this increase is on top of that figure). City have signed a new kit deal (reportedly around £12m) and have signed a host of small deals such as battery and drink partnerships. However the £37m uplift is huge - to put it into context, in revenue terms it is about the same size as the Etihad deal. In 2009/10, Man City's entire Commercial income was just £53m.
It is interesting to see what these figures do to City's accounts and the FFP test: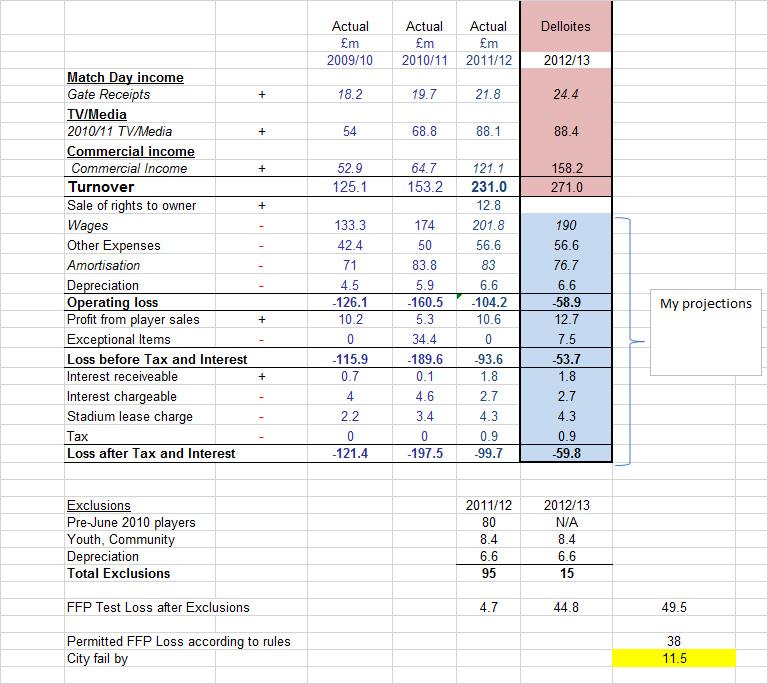 Manchester City appear to have been briefing journalists that they are on track to pass the FFP test. Assuming that is correct (and they are unlikely to be mistaken), by my calculations they need to find around £11.5m to nominally pass the test. Last year the accounts included a figure of £12.8m which City received from the club owners in return for some 'Intellectual Property and Know How'. It is possible that they trimmed their expenses more than I predict - however I think it is more likely that we can expect some similar, rather baffling, one-off item in their accounts
blog comments powered by

Disqus