Posted by Ed Thompson on Sunday, September 29, 2013
All is not well with Turkish football and last week the Istanbul Stock Exchange regulators warned the 'big 4' (Galatasaray, Besiktas, Fenerbahce and Trabzonspor) that they must take immediate action to improve their finances.
The Stock Exchange is concerned that all four clubs have short term debts that exceed their revenue – essentially they are severely short of working capital. There are therefore some doubts about whether the clubs should be considered a 'going concern'. In order to remain listed on the Istanbul Stock Exchange, independent auditors are required to confirm that the clubs are a solvent and this statement from the Board is very much a warning to the clubs to act quickly to resolve their financial position. Besiktas and Trabzonspor have, so far, only received a conditional approval from the auditor. Fenerbahce's problems seem less severe than the other three clubs as they plan to raise funds via a share-issue for a retail company that they own (Fenerium).
The regulators also pointed to large foreign-currency exposure of Besiktas and Galatasaray (the result of player purchases in currencies outside of the Turkish Lira). The clubs are committed to making further instalment payments on players already on their books and are dangerously exposed to exchange rates and the currently-falling Turkish Lira. Galatasaray, for example, owe around 288m Turkish Lira – back in June, one Lira bought around 0.42 Euros but now it only buys 0.35 euros. This has added around 17m Euros to the amount Galatasaray is committed to paying.

There are currently other off-the-field issues affecting Turkish football. Besiktas and Fenerbache are banned from European competition for this season for match-fixing (with Fenerbahce also banned for next season). Trabzonspor have started their Europa League campaign well but have had their UEFA prize money withheld having failed to prove that they have no' overdue payables' (i.e. tax, wages, transfer fees). The situation is serious for Trabzonspor as the Turkish Tax authorities have recently publicly lodged that the club owes tax dating back to 2012 for around £4.1m. The club had previously maintained that the issue of 'overdue payables' related to a player-transfer that is now resolved. There seems every chance that the club could be banned from future UEFA competition under FFP's Overdue Payable rules (as happened recently to Spanish club Malaga).
Galatasaray
I have attached the Profit and Loss account for Galatasaray for the last two seasons. I am very grateful to Luca Marotta of http://luckmar.blogspot.it/ for pulling this together and helping with this article. Luca produces in-depth analysis on many clubs, including an in-depth analysis of Galatasaray's accounts.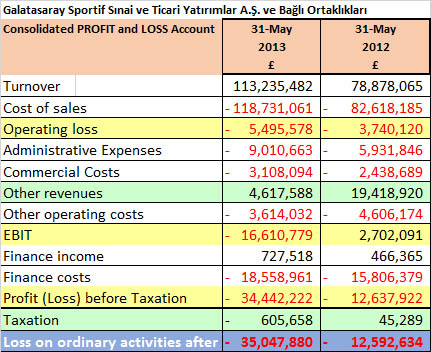 Although Galatasaray have lost more than the maximum permitted E45m (£38m) before tax over the two seasons, it is very likely that, owing to exclusions (youth/community spend, infrastructure financing and certain wages), the club would be within the FFP Break-even limits. However Gala will be mindful that there is more to FFP compliance than the 'Break-even' and 'overdue payables' and the club will also need to comply with the following before it receives a UEFA licence for next season:
1. Club is a 'going-concern'
2. Club negative equity is not growing
3. Owners inject equity to cover losses
The club auditors are required to confirm the club is a 'going concern' and, although Gala will almost certainly secure this, the Stock Exchange warning is worrying (especially as they have highlighted that short-term liabilities exceed the club's revenue). This financial indicator is, in itself, a key factor in suggesting that a business may not be a 'going concern'. However, as the club can almost certainly demonstrate that there is no immediate threat of liquidation, it should safely be able to meet this criteria.
There is also an issue over growing negative equity at the club. This is a rather complicated area but essentially a club is able to revalue existing assets to help meet this criteria. Galatasaray, have revalued existing player contracts which has reduced their negative equity – the Istanbul Stock Exchange is clearly unhappy that the club have taken this approach (and it is unclear what UEFA will make of this approach).
The requirement to inject equity to cover club losses could prove the stumbling-block for Galatasary's application to take part in UEFA competition next season. The club's owners will need to inject around £40m of equity before the end of December this year to meet the FFP rules. With the club's plans for a share issue blocked by the Istanbul Stock Exchange, it is unclear where these funds will come from (and without the injection, the club would probably not receive a licence).
Longer-term, the club's business model seems rather precarious - during 2012/13 Galatasaray received 24.8m euros from their successful Champions League campaign where they made the quarter-finals. Only one club automatically enters the lucrative Group Stage from Turkey and the club's average start has led to the sacking of manager Terim after only a handful of games.
You might wish to read my previous article on Galatasaray's FFP issues
Note: The negative equity, equity injection and Break-even aspect of FFP rules will be tested for the first time during this season's licencing assessment (i.e. license applications for entry into competitions starting in 2014/15 will be assessed during 2013/14). During 2013/14, club financial performance during the 2011/12 and 2012/13 seasons will be assessed to see if the FFP criteria has been met. The Overdue Payable aspect of the rules are not subject to a review of a two-season-long Monitoring Period – hence clubs have already been punished under this section of the FFP rules.
blog comments powered by

Disqus