Posted by Ed Thompson on Tuesday, May 28, 2013
French football is currently agonising over how to deal with newly promoted AS Monaco – a club backed by Russian potash billionaire Dmitri Rybolvlev which has recently embarked on some headline-grabbing spending (including Falcao for a reported E50m and Victor Valdes).
The independent principality of Monaco has a population of around 36,000 and has separate tax laws to France. Although French nationals pay the same rate of tax as in France, overseas players living in Monaco (other than American players) will pay zero tax.
Faced with Monaco's ambition, French clubs have questioned whether this gives Monaco an unfair advantage. The response from the French Football League (LFP) has been to give Monaco an ultimatum – either they move their headquarters to France by June 2014 (and come under French tax laws), or they will be ejected from Ligue 1. Understandably, Monaco have objected strongly and commenced legal action. During a meeting to find a way through the impasse, the French FA (FFF) ended up mired in controversy; both Monaco and the FFF claimed the other party had suggested that Monaco could pay €200m to make the problem go away.
The French papers have published a great deal of legal opinions on the deadlock – most seem to agree that the LFP would lose their case if it ever came to court. Interestingly, one view is that UEFA's own rules actually help Monaco; in 2011 French club Evian tried to re-locate to a stadium in nearby Geneva (Switzerland) –UEFA refused to sanction the change, stating that the club's ground and registered location need to be in the same place.
Playing in such a small country, Monaco's gates are small - they haven't exceeded average crowds above 11,000 for over 15 years (and attendances have been around 5,500 in Ligue 2 this season). Some make the argument that Monaco are therefore disadvantaged, compared to the bigger clubs such as Olympic Marseilles and PSG (who get around 33,000 and 43,000 respectively). It is worth looking at the club finances for Monaco and Marseilles during 2011/12 (when Monaco were playing their first season in Ligue 2).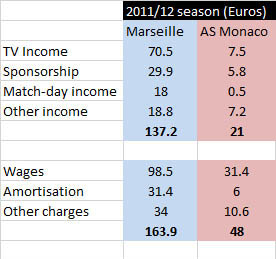 Source LFP Report
Marseilles received €18m in gate receipts (compared to just €0.5m at Monaco). Looking at the wages that Monaco paid, it seems likely that the benefit from paying zero tax on overseas players' wages amounts to somewhere between €5 and €10m a season. In 2011/12, Monaco had gates of around 5,000 and these would ordinarily be expected to double following promotion. However their gate-receipt income is very low. Compared to their aspirational peers their low gate receipts wasn't fully compensated by the benefits of paying zero tax on some wages. However, this might now change given the club's current spending campaign.
To add to a rather mirky picture, the French government have announced that they intend to introduce a 75% tax on anyone earning more than €1m a year (i.e. a footballer on €20k pw). The implementation of this tax is still somewhat in doubt but would require the tax to be paid by the company paying the wages (i.e. the club, rather than the player). This tax would have significant impact of FFP and would also materially increase the advantages for AS Monaco
However, even with these advantages, Monaco are simply too small in their current form to comply with the FFP Break Even requirements if they continue to spend heavily. To overcome this, Monaco have launched a vision of their future that has been outlined by Gabriele Marcotti in a 'Beyond the Pitch' podcast – see 23mins in). Marcotti explains that Monaco plan to become an 'aspirational, boutique brand' – they intend to create approximately 6,000 VERY high quality, luxury seats for which wealthy Monaco residents would pay around €2000 a game. The club would also create some premium seating, with tickets at around €200 a game. The remaining 6,000 tickets would go to existing fans at around the current rates.
There are probably few people who can envisage the 'boutique' plan working – however, perhaps that doesn't matter at the moment. Monaco have a plan (however ill conceived and unlikely) and it seems they will be pushing forward on this basis and simply hope that UEFA or the political climate changes. After all, the Dupont legal challenge is still ongoing and any UEFA punishment for overspending wouldn't affect Monaco until December 2014 at the earliest.
In the mean-time, Marseille are feeling squeezed and are distinctly unhappy about the situation – as their President Lebrune outlined "[Marseille] must try to consolidate our place on the podium without the means of the Russians at Monaco (owned by billionaire Dmitry Rybolovlev)".
blog comments powered by

Disqus