Posted by Ed Thompson on Thursday, December 5, 2013
One of the most frustrating parts of the transfer window is finding that a player has been sold for 'an undisclosed fee'. Whereas some clubs are happy to disclose the amount that has been paid, increasingly clubs prefer to keep the figure confidential; hoping that it will somehow improve their future bargaining position or possibly avoid the wrath of their fans. As the Guardian reported, only 5 of 115 transfers made in the summer had an officially disclosed fee - a concept they felt was 'an insult to fans'. There has recently been a noticeable cultural shift towards more openness and transparency in football and the 'undisclosed fee' is clearly headed in the opposite direction.
Perhaps it is time for football clubs to consider the approach taken in Italy's Serie A. Diego Tari (@Tifbilanciato) from website http://tifosobilanciato.it/ recently made me aware of the information available to Italian supporters on their clubs. All Italian clubs are required to publish a list of the players at the club, together with the amount they paid for the player; their contract-end date, and their depreciated book value. Juventus published the following report as at 30 June 2013: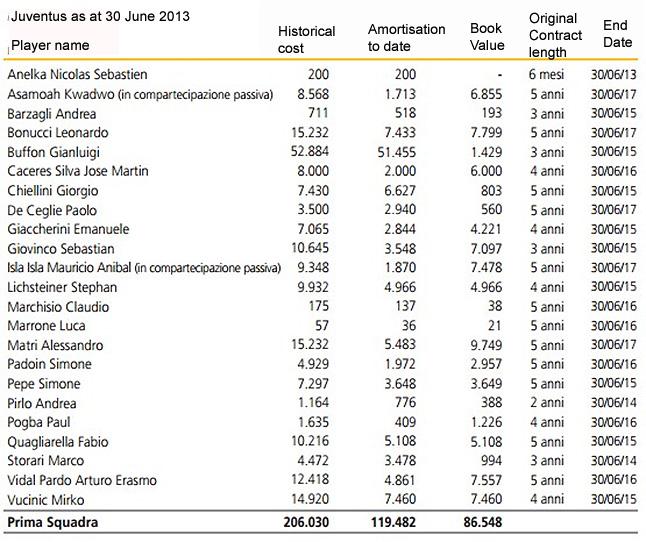 This level of information is intrinsically interesting - there probably aren't many football supporters who wouldn't be interested in reading a break-down of their club's players in this format. Interestingly, the figures in Juventus break-down are not 'round amounts'. I am advised this is largely because medical fees and legal fees are added to the purchase price (to represent the full cost of the purchase). N.B. Agent fees are not included in these figures.
As anyone interested in FFP will be aware, players purchase price is written-down over the life of the contract - this results in a rather mirky item appearing in the club' annual accounts termed 'amortisation'. Arsenal, for example reported amortisation costs of of over £41m in their 2012/13 accounts (but of course, we receive no breakdown of how this figure was derived). Interestingly, Manchester United used to the provide this level of information back in 2005 - however, for whatever reason they stopped producing it.
Italian clubs produce this information routinely and quite happily. This makes it easier for football fans to understand the club finances and unpick this mysterious amortisation figure. I would argue that having this information would really help the governance process within football. if Leeds or Portsmouth had published their squad in this format and detail, fans and journalists would have found it much easier to have challenged the clubs' lack of sustainability.
Perhaps calling for such a change isn't entirely fanciful. It is easy to forget that as recently as 2009, David Conn was bemoaningthe lack of agent-fee disclosure in the Premier League. Now, every November, the Premier League routinely publishes how much clubs paid to agents. Publishing purchase price and contract information would be a fairly 'low cost' tool that would allow fans to better understand events and pressures at their football clubs.
Interestingly, Agent Fees aren't disclosed in Italy so perhaps both countries could learn from the best-practice examples of the other.
blog comments powered by

Disqus