Posted by Ed Thompson on Monday, December 9, 2013
A study of Premier League club accounts shows that most paying fans effectively have their match-day-experience subsidised by club losses. The table below shows how much extra fans would have to pay for their match tickets if clubs worked on a Break Even basis, with fans making up any deficit.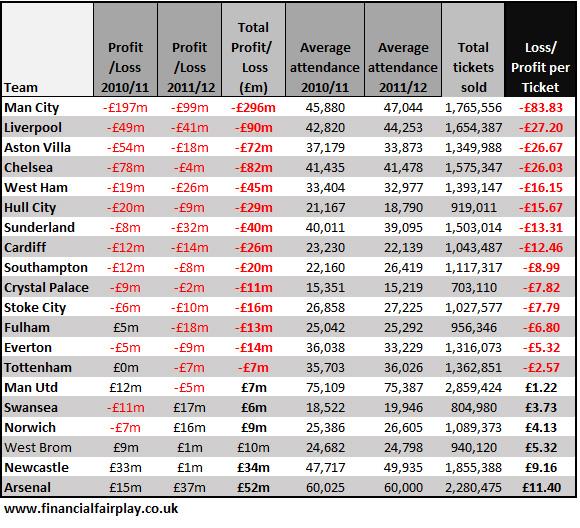 Obviously the big 'Loss per ticket' figures are the ones that stand out – there probably wouldn't be too many Liverpool or Man City fans who would continue to go to the game if every single ticket cost £27 and £83 more respectively. One could argue that fans of the biggest loss-making clubs have been getting tremendous value for money – a bit like regularly buying a ticket for your local theatre but getting to see Tom Hanks and Denzel Washington strut their stuff. Without the largesse of many Premier League owners (or their ability to add losses to the club debts), the talent on the pitch might be considerably less attractive.
There are only 6 clubs that have made a profit over the last two seasons for which we have a full set of accounts. Of these, Arsenal fairly regularly make a profit (essentially due to profit on player transfers). Arsenal were quick out of the blocks with their 2012/13 accounts and reported a pre-tax profit of £6.7m (this would bring down their 'Profit per ticket' to around £9.50 over the two seasons).
There are a few interesting anomalies in the figures. Newcastle's huge profit of £33m in 2010/11 is largely due to the sale of Andy Carroll to Liverpool for £35m. Liverpool's losses are mostly the result of the period of overspending under Dalgish and lack of Champions League income.
Manchester City are due to report their annual accounts for 2012/13 fairly soon and their loss-per-ticket figure seems set to improve. If the club reports losses at around the £60m mark (as some expect), the club subsidy figure would change to around £45 per ticket.
However you could argue that this is a fairly distorted view of club financing and ticket pricing. Whereas ticket income historically made up the lion's share of club income, the picture has significantly changed. TV revenue and Commercial income have grown significantly and ticket income, although outpacing inflation, has fallen well behind the growth in the other income streams.
There are two measures coming into play that should change the current loss-making picture for clubs in the Premier League. Thanks to the BT deal, TV income will increase this season for every PL club by around £25m-£30m from the current season (2013/14). Crucially, despite the extra income, new spending constraints are now in place that restricts clubs' ability to increase their wage bill. The two-thirds of the clubs with wages above £52m are now only able to increase wages by £4m a season (although clubs can exceed the £4m figure by the amount of uplift they generate from extra sponsorship, match-day income or player-transfer profits).
In future seasons, we should see many clubs regularly reporting modest profits and a 'Profit-per-ticket' figure should be the norm rather than the exception. The cry of 'spend some money' might even be heard at grounds other than the Emirates.
blog comments powered by

Disqus