Posted by Ed Thompson on Monday, March 2, 2015
QPR issued a press release on 2 March to announce that the club had improved on losses of over £65m in 2012/13 and had made losses of just £9.8m in 2013/14. Not only that, but the owners had paid off loans of £60m. On the face of it, a terrific improvement and stories about the club being hit by a £30-£40m FFP fine were clearly wider of the mark. However, things are not quite as they may initially seem

The improvement was both stunning an unexpected. And as we know, when something seems too good to be true, it often is.
The club's announcement was lacking in detail – rather than publish full accounts, the club gave fans only partial information. However, the press release did tell us that 'Expenses' has been reduced by £22m. In 2012/13, Expenses were £125.8 – so we can expect Expenses to be somewhere around £103.8m for 2013/14 (although we don't know the breakdown):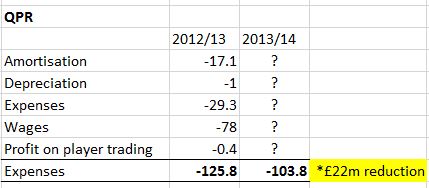 When we overlay the Income figures (and a projection for the reduced income in 2013/14) we can see that something clearly doesn't stack up:
Rather than reporting a loss of £9.8m, QPR should have reported a loss of around £67m. Rather than reducing, the club losses should actually have increased! Readers may be puzzled as to why the figures are so far out – well over £50m. The only way QPR could have reported a loss of £9.8m is if their income was £50m-£60m higher than can reasonably be explained. Well, remember that £60m of loans mentioned in the Press Release that the owners generously cancelled?
It seems highly likely that QPR have effectively accounted for that £60m loan cancellation as 'Income'. To be more accurate they will have classed the cancelled loan as an 'exceptional' item in the P&L account which would have delivered a one-off increase in income.
Fortunately Football League rules prevents owners from artificially inflating transactions to help their club pass the FFP Break Even Test. These kind of inflated 'mates-rate' deals are termed a Related Party Transaction' (RPT) and the Football League will assess any RPT transaction and apply a 'fair value' for the purposes of the FFP test. The club have clearly irritated the Football League'. The FL statement explains:
"The Football League notes the statement made earlier today by Queens Park Rangers regarding its annual accounts for the year ending May 31, 2014.
"The treatment of certain items in those accounts, and how the League's FFP rules should be applied to them, remains a matter of ongoing discussion between QPR and the Football League.
Interestingly, QPR's owners could suffer a double-whammy if the club cannot win their seemingly thin legal argument. The owners have written off £60m in loans but could also find themselves saddled with a FFP fine of somewhere around £50m. They will have to pay that fine if they are relegated to ensure the Football League will allow them into the place in the Championship.
It will be interesting to see if this contentious transaction is labelled as a 'Related Party Transaction' in the accounts. It is possible that the obliging accountants may have decided not to use this term in the accounts. If so, this could make things more difficult for the Football League– however it seems such an 'open and shut' case that it may well not ultimately matter.
It is possible of course that the missing £50m-60m isn't related to the loan repayment – however the figures are so close it seems likely to be connected. In any case, there has clearly been a highly contentious owner-related injection of income which has irked the Football League and pushed at the boundaries of football club accounting.
Ultimately, you have to wonder about the wisdom of the club's approach. For all the owner's openness on social media, many fans will have been misled by the club announcement and surely deserve to be treated better
blog comments powered by

Disqus