Posted by Ed Thompson on Saturday, December 13, 2014
New
spending constraint rules
have been voted-in by Championship clubs. The new rules replace the term "Financial Fair Play" with the term 'Profit and Sustainability' and crucially do not come into effect until next season (2015/16). The actual vote was a close run thing with 6
clubs
voting against the change (Ipswich and Charlton were amongst the clubs that voted against the new rules).
The deferral of the implementation of the rules means that clubs must keep to the 'old' limits, and keep losses within the limits for the current season (2014/15) - any clubs that make losses over £6m over the season (or £3m if the owner does not inject equity) will expect to be sanctioned in December 2015.
The involvement of the Premier League was crucial in getting the new rules adopted. Scudamore has previously been critical of the Championship rules and Premier clubs were known to be unhappy with the constraints the regulations placed on them should they be relegated. To smooth-in the change and provide an incentive for Championship clubs to vote for the softening of the rules, the
Premier League linked an increase
in the 'Solidarity' payments (paid to Football League clubs) to the successful passing of the rule change. Now the vote has been passed, the Football League will open up discussions with the Premier League to increase the share of the Premier League's huge TV deal. The linking of the increased deal to the FFP vote is rather cryptically referenced on the Football League site;
Following the Championship's decision, The Board of The Football League has been given a mandate by its clubs to complete a new financial solidarity arrangement with the Premier League in accordance with that currently under discussion between the two leagues.
Interestingly, the discussions will cover a number of matters and the Football League have advised that the terms of the 'transfer embargo' punishment may also be softened. The Football League advised:
Clubs have indicated interest in accepting a number of changes to this
embargo
as of 1
st
January 2015 but this is on the proviso of terms of a new Solidarity Agreement being signed.
However this could take time and until any new changes are agreed, the existing rules will apply. Any club that is given Transfer Embargo during the current review period (Dec 14) will receive an embargo from 1 Jan 2015, where the following rules will apply: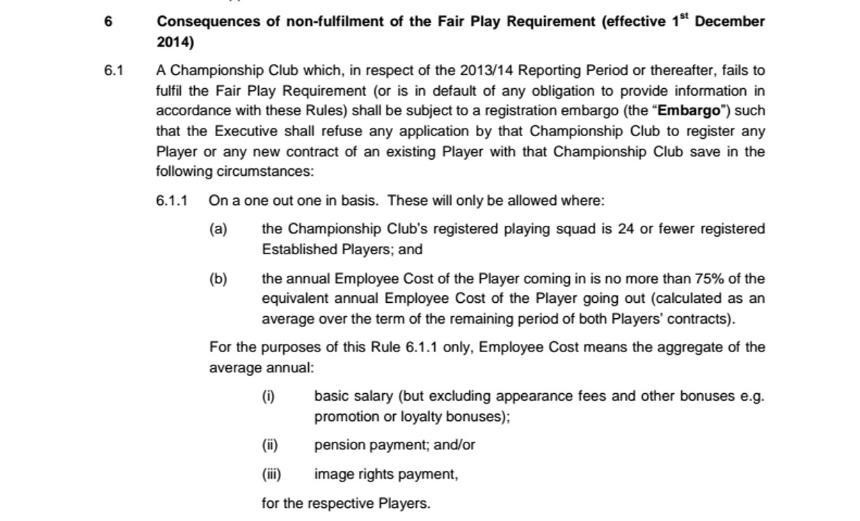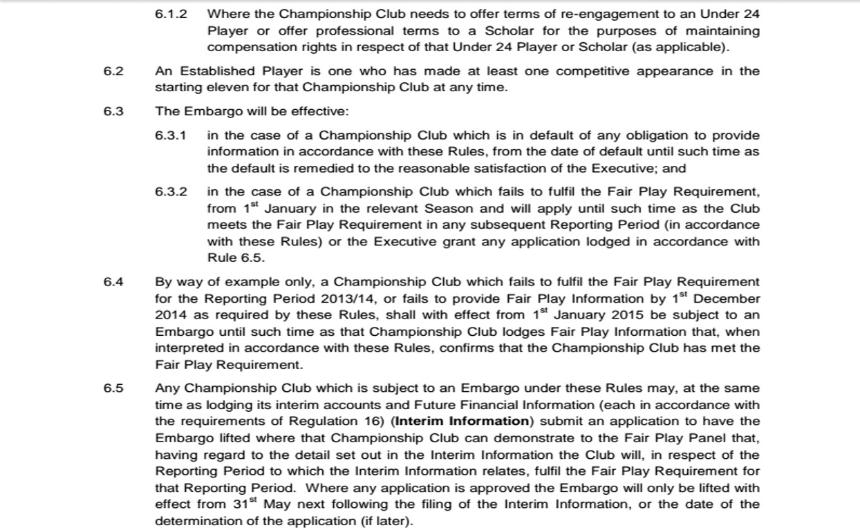 blog comments powered by

Disqus