Chelsea - Projection calculations and assumptions
Listed below are the calculations and assumptions used to produce the projection.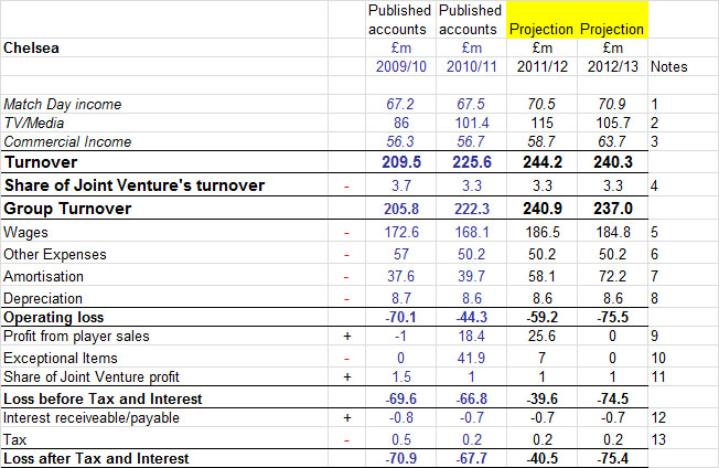 1 Match Day Income
In 2011/12, Chelsea had an extra game at Stamford Bridge game due to the CL success (compared to previous Season). I have assumed Chelsea reach the Quarter finals again in 2012/13 so the number of games are the same. However, I have factored in a 5% ticket price increase.

1 TV Media income
The TV and Merit Payments in 2011/12 are known and can be seen at the Sporting Intelligence site. An uplift for the FA Cup win has also been included.
For 2012/13, the prize money in the Champions League has increased by 15% so a corresponding uplift has been included. Currently most bookmakers have Chelsea as 3rd favourites to win the Premier League so have assumed a Merit Payment based on third place.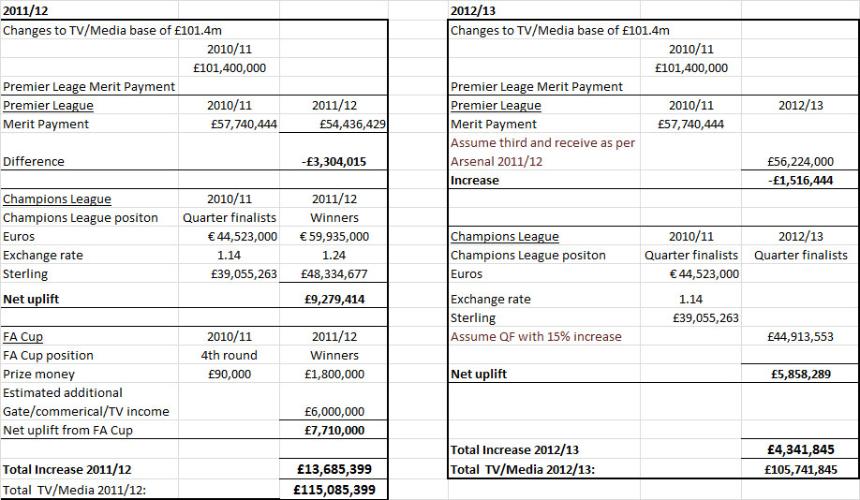 3 Commercial Income
I have assumed a £2m bonus from sponsors and other Commercial partners for winning the Champions League. For 2012/13, the increased Samsung deal has been included (£18m a season from £11m).

4 Share of Joint Venture
Assumed no change
5 Wages and 7 Amortisation
These have been calculated based on the following tables.
Note, an additional £5m player bonus for winning the Champions League has been included in wages (this figure is a little less than the £6m bonus Man City players received for winning the league)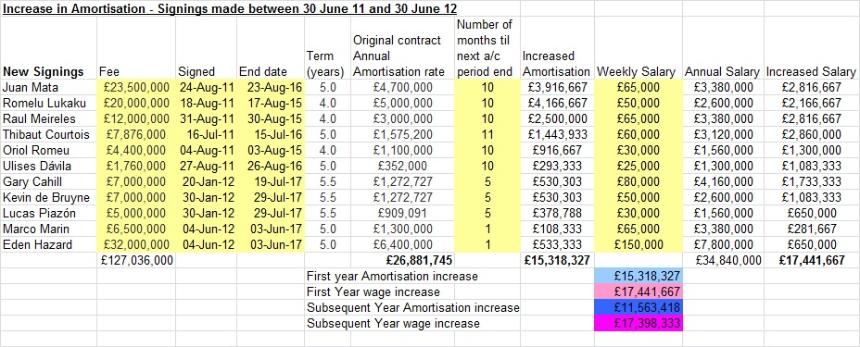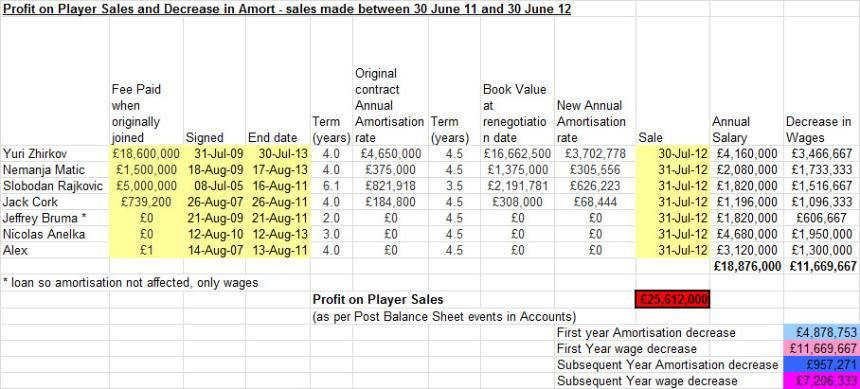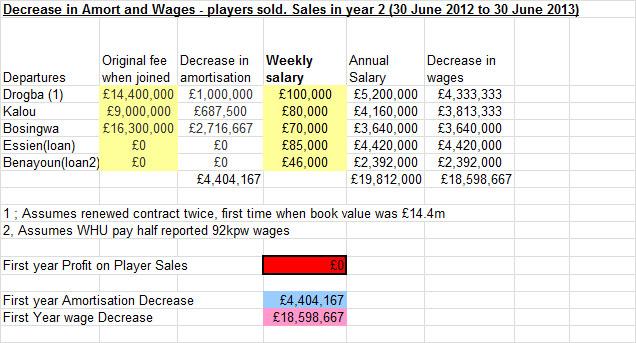 Notes 6,8,11,12,13
A flat assumption has been used
9 Profit on Player Sales
This item is listed in the accounts published up to June 2011 as 'Post Balance Sheet events' - i.e. something that happened after the 30 June 30 2011 cut-off but before the accounts were finalised for publication at the end of 2011:

10 Exceptional items
Terminating Villa-Boas' contract was due to set the club back £14m as another one-off Exceptional item. However, it appears that the club had inserted a lause in his contract so that this figure was greatly reduced when he was employed by Spurs (link). A £2m pay-off has been assumed. Also included as an Exceptional item is a one-off £5m for Chelsea's abortive attempt to move to Battersea. This figure is a marker but in any event, the expense can be excluded from the FFP calculations as it represents Infrastructure expenditure (see below).
FFP Exclusions
The FFP rules allows certain expenses to be excluded. These are outlined below and include the assumed expenditure on the plans for the new ground. Note that the figure for Youth Development is a marker based on an assumption/marker made by Swiss Ramble.
Pre-June 2010 wage contracts have not been excluded as the deficit is increasing (£40.5m to £75.4m). For an explanation of this issue, go here.